More space for more vitamins: Our extra wide models.
Whether you prefer 60 cm, 70 cm, 75 cm or 86 cm, our choice of different widths for the NoFrost fridge-freezers makes sure you always find the right size for your kitchen - and your family's needs.
First choice – every time. The Series 8 models with 86 cm width.
All the models from our NoFrost bottom-freezer series have one thing in common: they are the perfect place for keeping food fresh and healthy. Regardless of whether you are looking for a fridge with the best freshness system or particularly appreciate more space and flexibility – you can be sure to find the model that's exactly right for you in our NoFrost range.
Serie | 8


Volume

623 l

Measurements

Height: 186cm

Freezer-Compartment

below

Display

Large LCD-Display

Lighting

LED spot light & light strip on the side

Freshness system






VitaFresh plus:
- Optimal temperature settings
at around 0°C
- Vegetable/Fruit drawer:
2 humidity settings
- Fish/Meat drawer: two removable
drawers with TabletChiller

NoFrost Series 8 fridges
Good for the vitamins. Even better for your health.
The Series 8 fridges feature our best freshness system VitaFresh pro. It keeps food fresh up to 3x longer with temperatures from -1°C to +3°C while maintaining the perfect humidity level. This combination of temperature and humidity helps you to protect all the aromas, essential nutrients and valuable vitamins in your fresh food. Hence, it is easier than ever to maintain a healthy diet with fresh fruit and vegetables every day.
Healthy living starts from within. Simply open the door.
The Series 6 fridge-freezers provide you with everything you need to live healthy. They not only offer you plenty of room for lots of fresh foods, drinks and even big pots and bowls, but as well the technology to store it optimally. The VitaFresh plus freshness system guarantees ideal storage conditions at any time and ensures that fish, meat, fruit and vegetables stay fresh up to 2x longer. This makes our Series 6 fridge-freezer not only optimal for your food. But as well for yourself.
Where everything stays fresh for longer – from A for Apple to Z for Zucchini.
Our Series 4 fridges with VitaFresh freshness system and a huge storage space guarantee you ideal storage conditions for fresh food, frozen food and drinks. You can be certain that fresh food will be preserved for longer, enabling you to enjoy a varied and healthy diet.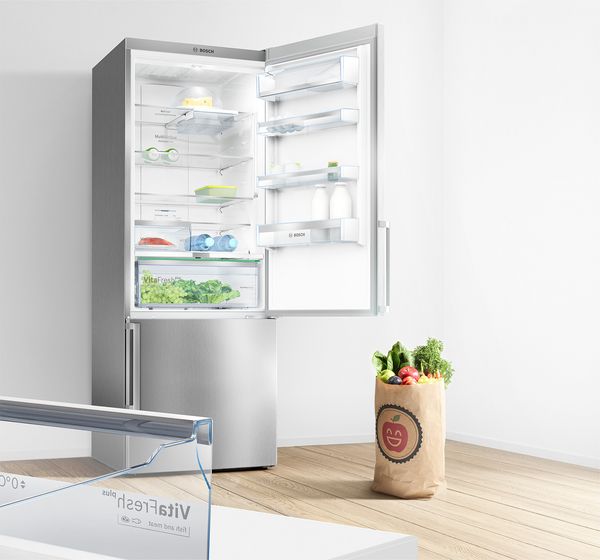 No matter how much you buy, there is one thing you'll always have in your fridge: plenty of space.
The Series 6 fridges are the next big thing. They offer you 559 litres of storage space and thus plenty of room for fresh food, drinks and even big pots and bowls. Additionally, the VitaFresh plus freshness system guarantees you optimum storage conditions. It ensures that your groceries stay fresh for much longer. Now you only need to ask yourself what to buy, not how much: it will all easily fit.